Travel writing for Woman's Day
Here are some of the travel pieces I wrote for Woman's Day magazine.
This first one was from a Tasmania trip that was all about high-octane adventure (plus wine!). I've included my full version here because I feel the terror is more palpable in it…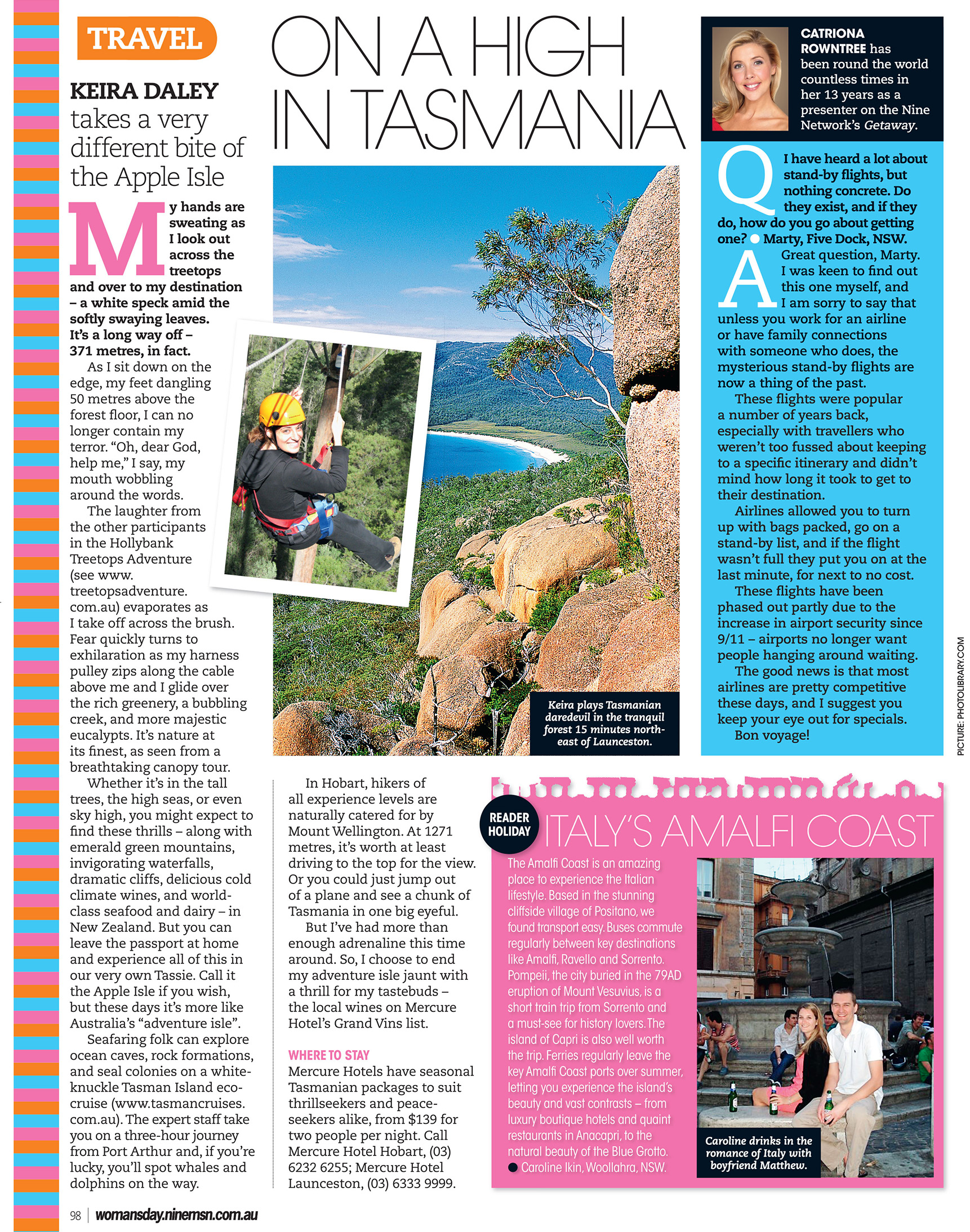 My hands are sweating as I look out across the treetops and over to my destination – a white speck amid softly swaying leaves. It's a long way off. 371 metres, in fact.
I sit down on the edge, my feet dangling 50 metres above the forest floor, and suddenly I cannot contain my terror any longer.
"Oh dear God help me," I say, my mouth wobbling around the words.
"Where you are right now," the Hollybank Treetops Adventure guide explains, "I am God."
The laughter from the other participants evaporates as I take off across the brush. I let out a yelp that comes from my toes and fingertips as my harness pulley zips along the cable above me.
Fear turns into exhilaration as I glide over the rich greenery and a bubbling creek, with a blur of majestic eucalypts rushing by. It's nature at its finest, as seen by breathtaking canopy tour.
It's all here, from the tall trees to the high seas – or even sky-high. Adventure sport thrills, emerald green mountains, fresh waterfalls and dramatic cliffs, delicious cold climate wines, world-class seafood and dairy, and a sense of humour drier than their riesling, are things you might expect to find in New Zealand. But Australia has its own answer to all these things in its very own Tassie.
Let it be known that the "Apple Isle" has other forbidden fruits on offer – perhaps "Adventure Isle" is a better nickname.
Seafaring folk can explore ocean caves, rock formations, and colonies of seals kicking back in the sun on a three-hour Tasman Island Cruises Eco-Cruise. The expert staff take you along the coast between Port Arthur and Eaglehawk Neck and, if you're lucky, you'll spot whales and dolphins along the way.
In Hobart, hikers of all experience levels are naturally catered for by Mount Wellington – all the better when guided by one of Adventure Planet's nature experts. At 1271 metres, it's worth at least driving to the top for the view – or even a bit of snow.
Or you could skip the details and jump out of a plane, catching a hearty portion of the Adventure Isle in one big eyeful.
But gliding in the forest canopy and cruising part-way to Antarctica is enough adrenaline for me this time around. I choose to end my Adventure Isle journey with a glass of delicious local pinot noir – keeping the thrills comfortably confined to my tastebuds.
This next piece is from a chilled-out few days on the NSW Central Coast at a shiny new resort…
This last one was originally written for Woman's Day, but it got dropped at the last minute. I'm posting it here because 1) that trip was awesome, 2) I still stand by my food and wine recommendations, and 3) that trip sparked my genuine fascination with wine and winemaking, which has brought me so much joy on my travels since (including repeat visits to the Hunter). Note well that, while the Hunter is also known for chardonnay, I do not mention it – because chardonnay is the broth of Satan.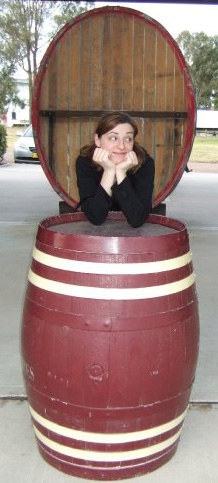 It takes endurance to spend time in Australia's oldest and largest winemaking region. As well as having to sip on the expected supply of Shiraz and Semillon, you have to eat at cosy restaurants helmed by skilful chefs, breathe crisp, fresh air with just a puff of chimney smoke about it, undertake the arduous task of demolishing gourmet breakfasts, lunches and dinners, watch golden sunsets over the Brokenback Ranges… And did I mention there's food?
If you're a foodie who's up for a 'challenge', here's how our little group went about it.
We spent our first day in Pokolbin, stopping at Bistro Molines for lunch on the sun-flecked deck among white umbrellas and tables of people enjoying the finer things in life.
Next was Tintilla Estate, where we walked through the groves, learning about the olive preservation process and tasting the fruits along the way.
We also tasted a sample paddle of boutique beers at BlueTongue Brewery. And, just across the road, we savoured award-winning cheeses at Binnorie Dairy on a behind-the-cheese tour.
We checked in at Hermitage Lodge in time for dinner at the multi-award-winning Il Cacciatore Restaurant. Some deeply-content locals taught us all about some of the Hunter's best wines and demystified wine-tasting for us!
On day two, despite the previous day's indulgence, we stopped at beautiful Peppers Guesthouse's Chez Pok for breakfast – French toast with a side-serve of morning sunlight through old-fashioned windows.
Next, we grabbed some Cheese & Wine Trail Cards – a go-at-your-own-pace tour where you're given a cheese hamper and a list of matched wines to try at each winery on the trail. Travelling through Lovedale, we admired Capercaillie for its sparkling moscato and Adina for its light, bright whites, before arriving at Majors Lane Restaurant for lunch. Did I mention there was food? Majors Lane's excellent fare is matched by its relaxed elegance.
That evening, we waddled to Mojo's on Wilderness for dinner. Mojo's is cosy and colourful and, again, there was more great food – especially the dessert platter! And wines from Allendale Winery were a treat.
In the end, we all had to leave the Hunter because, really, we'd never have stopped eating and drinking otherwise. Still, we stocked up on enough local supplies to keep the Hunter in a cushy corner of our minds.
Top 3 foodie things to do
1. Cheese & Wine Trails
For $55, this nifty little card takes you on a four-course picnic, matching cheeses to a wine at each cellar door. You also receive a bottle of wine of your choice to the value of $25. The card is valid in wine regions in NSW, Victoria and SA.
2. Pokolbin Village
The Hunter Valley Smelly Cheese Shop sells all things cheesy, but the, er, coolest thing is the gelato, which tastes as good as it looks. Try a 'gelato burger' if you dare! And don't miss the adorable Pokolbin Jam and Chocolate Company right next door.
3. Moorebank Private Vineyard Estate
As well as wine, Moorebank makes a variety of mighty tasty homemade products, including their famous Spicy Grape Sauce and the especially yummy Country Garden Pickle Paste.
Getting there
Hunter Valley Wine Country is two hours' drive north of Sydney, one hour drive from Newcastle. You can also travel by coach, train or plane to Cessnock or Newcastle Airports. Visit www.winecountry.com.au for more info.