What is LadyNerd?
"a brassy cabaret ode to the women who bucked convention and made a difference… delivered with gumption and sass… ****½" – The West Australian
"LadyNerd is a shining example of cabaret done right… Fun, fresh, laugh-out-loud humour… a rollicking show" – Aussie Theatre
 "a superb piece of cabaret… fascinating and funny" – Glam Adelaide
"sparkly demeanour… smart and sexy" – Edinburgh Fringe Review
Read more reviews on the LadyNerd PRESS page.
Packed with OMG facts, LadyNerd is an award-winning, sold-out musical comedy that celebrates history's finest brainiacs. Amazing true stories and intriguing real-life characters interface with quirky rants and inventive songs, all in the key of nerd.
And, in grand superhero tradition, LadyNerd has a sequel. Choose your own adventure in LadyNerd 2: Game of Nerds – the follow-up to Keira Daley's award-winning geekshow. Which brilliant historical brainiacs will you meet this time? YOU decide!
LadyNerd 2: Game of Nerds last appeared at Sydney Fringe 2017 and premiered in Perth at Fringe World 2017, where it was nominated for the Best Cabaret Award.
The show follows original flavour LadyNerd, which played 52 times in six cities across two continents and won the Sydney Fringe Award for Excellence in 2011.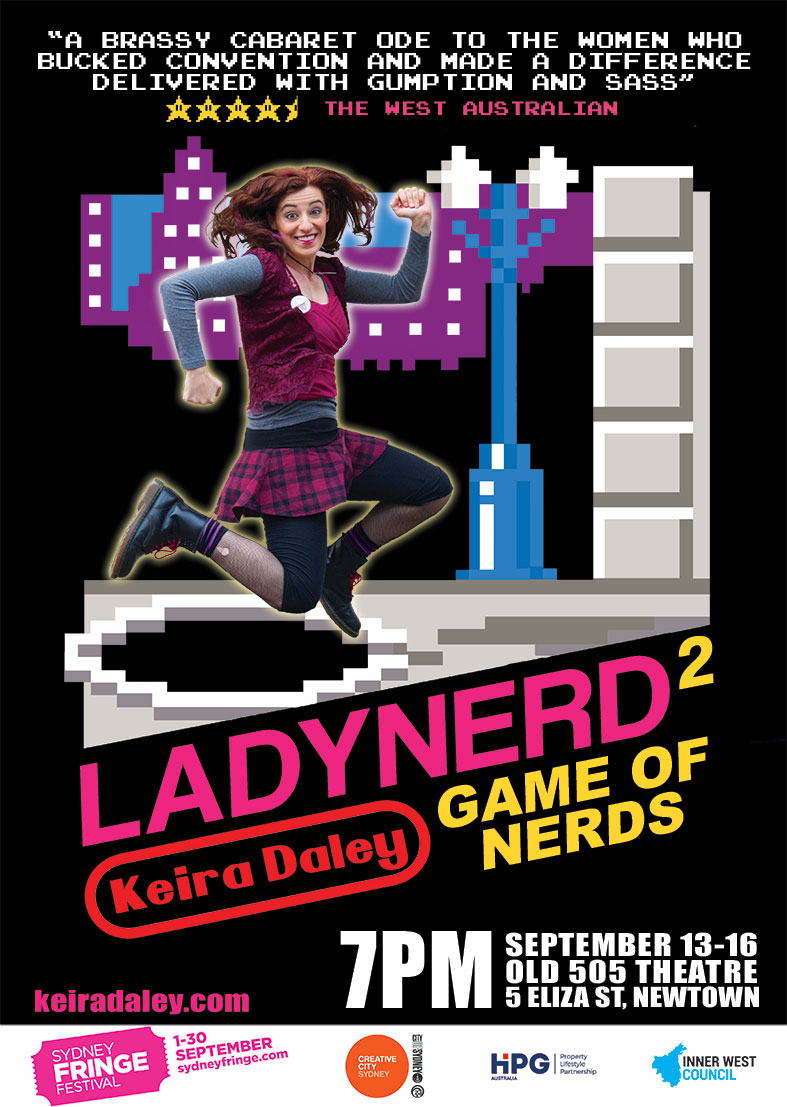 Keira returned to the LadyNerd "franchise" following 2016's smash-hit There's No One New Around You: A Tinder Musical. In LadyNerd 2, Keira is masterfully accompanied again by piano nerd Mark Chamberlain, and presents supercharged live musical game lets YOU call the shots.
Like its predecessor, LadyNerd 2 is packed with stories of discovery and invention. But this time, the interface is enhanced by bits of speculative fiction and the impressive upgrade of all-original songs by the centrestage nerd herself.
Venture forth on a quest where you could set course for the moon with NASA mathematician Katherine Johnson, crack a genetic code alongside X-ray crystallographer Rosalind Franklin, or snack on a power pellet opposite Ms Pac-Man.
Be inspired by true tales of ingenuity, tenacity, and a stubborn love of being right.
WINNER: Sydney Fringe 2011 Award for Excellence
NOMINEE: Fringe World 2017 Best Cabaret Award
LadyNerd BY THE NUMBERS
staged in 6 cities
(Sydney, Brisbane, Adelaide, Melbourne, Perth, Edinburgh)
across 2 continents
(okay, one of those is Australia)
featuring 15 historical LadyNerds
(at least!)
performed 52 times to date!
(and people liked it! Find out how much on the LadyNerd PRESS page)
LISTEN: A trailer for Florence Nightingale, the action-adventure epic…
TEAM LADYNERD 2
Centrestage nerd: Keira Daley
Script, music and lyrics by: Keira Daley
Musical direction, accompaniment, orchestrations by: Mark Chamberlain
With choreography by: Shondelle Pratt
Dramaturgy & additional writing by: Peter Lead
LadyNerd original flavour also included:
Director: Jay James-Moody
Sound design: Jessica Burns
Additional voice-overs: Blake Erickson, Beth Daly, Jay James-Moody, Peter Lead
Camera operation: Luke Erickson