The musical sketch comedy 20 billion matches in the making!
Swipe left for 'no' too often and you're told "There's no one new around you". But we don't blame you for being tired of tigers and trout-pouts. Take on dating in the digital age armed with whip-smart sketches and catchy songs written by Keira Daley (LadyNerd), Mark Simpson (Kinky Boots), and musical director Steven Kreamer (The Drowsy Chaperone).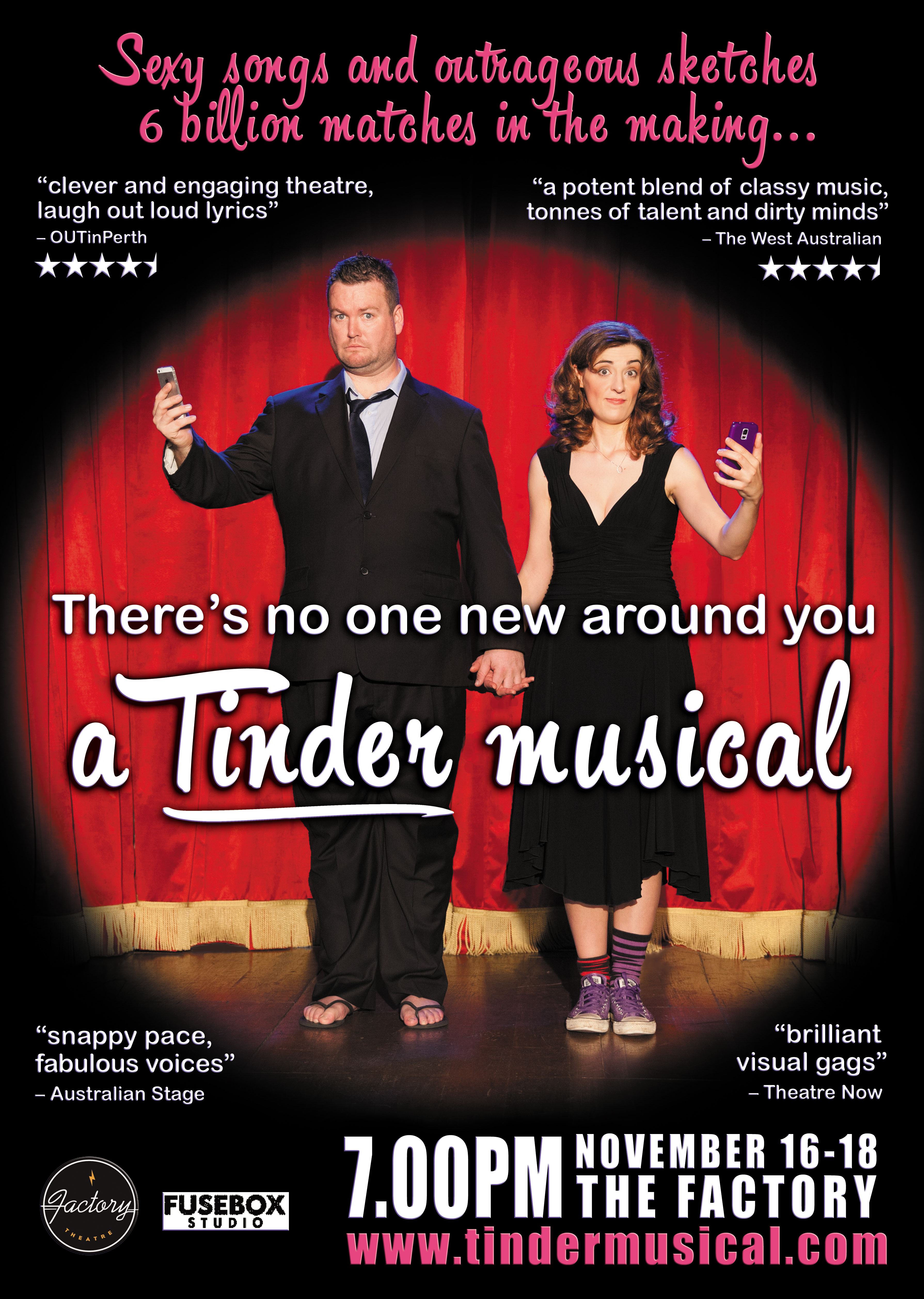 "If you are looking for comedy, this is as seductive as it gets. Keira Daley, Mark Simpson and musical director/keyboardist Steven Kreamer bring a potent blend of classy music, tonnes of talent and dirty minds to create an ode to the popular location-based dating app. ****½"
– The West Australian

"The songwriting and arrangements had the bounce and energy that a musical should have; lighthearted and whimsical and accompanied by dominant voices. The laugh out loud lyrics stood well, but the singing ability of Daley and Simpson (and Steven Kreamer on piano) brought the performance from light entertainment to clever and engaging theatre… ****½"
– OUTinPerth

"Besides their fabulous voices and piano accompaniment, they utilise a cleverly assembled multimedia backdrop to add another dimension to the show. There's No One New Around You moves at a perfectly timed, snappy pace and has been crafted to deliver a balance of music, sight gags, multimedia and re-enactments. It's sure to be a very popular choice, so don't delay."
– Australian Stage

"Daley and Simpson possess the vocals and acting chops to entertain and satirise the proliferation of online dating as a desperate search for love (or sex). I can confidently say that you will thoroughly enjoy all that is on offer."
– Sh!t On Your Play
"brilliant visual gags… lovely observations… a fun commentary on how we approach the art of attracting a mate in the era of internet dating"
– Theatre Now
"The songs, written by Daley, co-star Mark Simpson, and accompanist Steven Kreamer use some silly, irreverent but often clever rhymes to win laughs, and they're tuneful pastiches of contemporary musical theatre performed with plenty of style and expression. Daley and Simpson are perfectly in step as their various characters… It goes deeper below the surface than you might expect"
– Daily Review
"cutting social commentary that keeps us excitable and engaged… Daley and Simpson are perfectly exuberant"
– Suzi Goes See
There's No One New Around You: A Tinder Musical is a sketch comedy show about that infamous dating app – the one responsible for swipe-related RSI around the world…
Featuring sharp sketches and character studies, whip-smart lyrics and all original songs, the show takes you on a rollercoaster of musical pastiche – from Sondheim-esque to power ballad, via nods to Cole Porter and Disney. It's performed by two character actors with big voices and even bigger opinions, Keira Daley and Mark Simpson, supported by sparkling accompaniment and cameos from their musical director, Steven Kreamer – the accomplished trio who wrote the show.
Aided by clever animations scattered throughout, There's No One New Around You: A Tinder Musical brings the mechanics of Tinder to life for the benefit of those who have never used the app, and to the amused recognition of regular users. Experience (and laugh at) the highs, lows, dilemmas and quirks of dating in the digital age.
An original revue, 20 billion matches in the making, it's a night out you won't regret swiping right for.
MEDIA
LISTEN!
Keira chats to 2SER about the show and the wonderfully weird world of Tinder – listen here.
Mark and Keira chat to Jess Scully from ABC 702 Evenings and, accompanied by Steven, perform the show's finale, Anywhere But Here (song at 16:45) – listen below:
WATCH!
Check out that time we were on TV, where we sang and had a chat about the show on ABC Lateline!
Mark Simpson sings of a common dating pitfall, accompanied by Keira Daley and Steven Kreamer.
Tinder user? This could happen to you…
READ!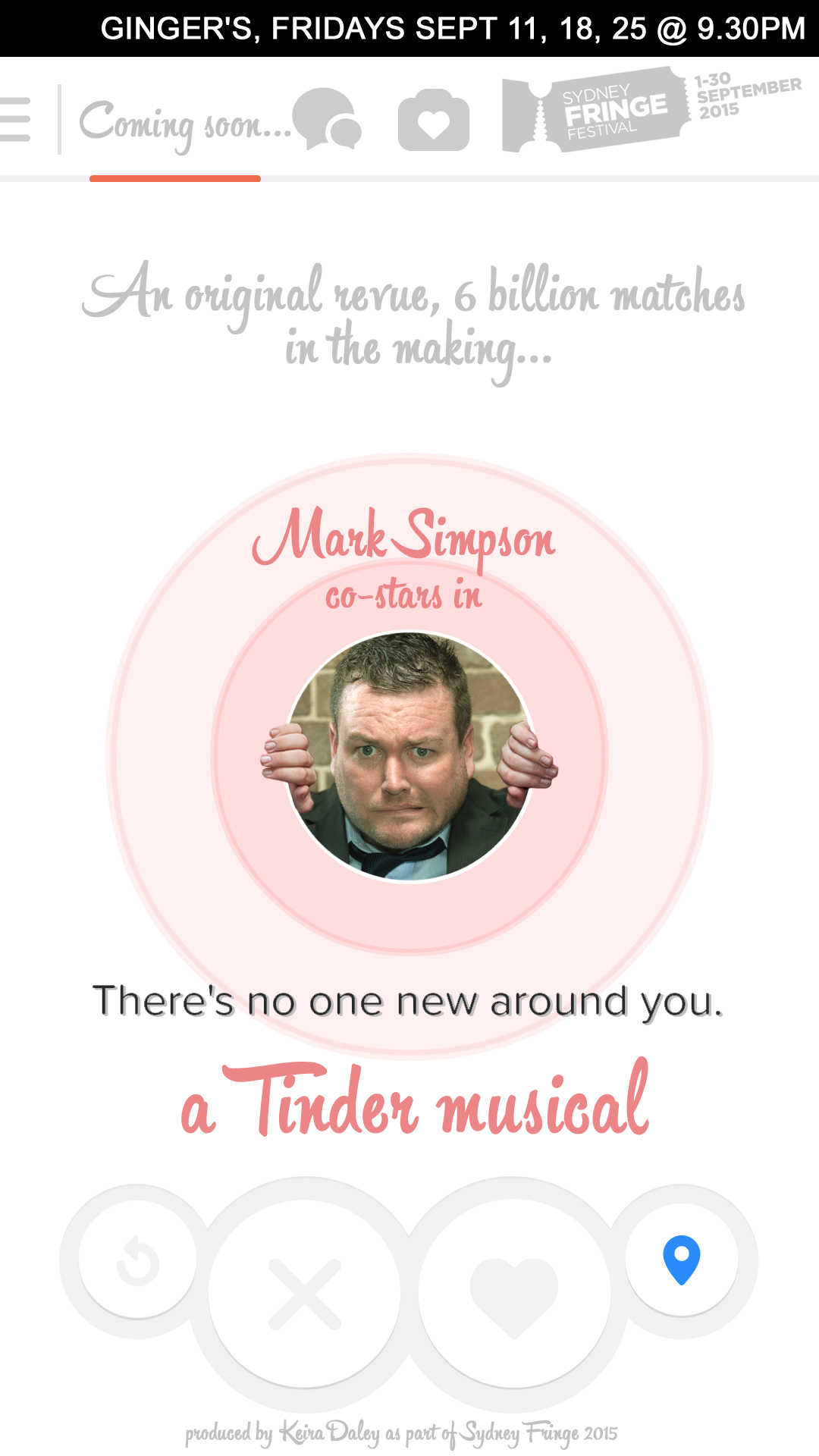 CREDITS
Produced by Keira Daley
Starring Keira Daley and Mark Simpson, accompanied by Musical Director Steven Kreamer on keys
With direction from Beth Daly and choreography from Shondelle Pratt
Book by Keira Daley and Mark Simpson
Additional writing by Steven Kreamer and Peter Lead
Music and lyrics by Keira Daley, Steven Kreamer, and Mark Simpson
Additional composition by Brad Christmas
Opening number images by Keira Daley and Mark Simpson
Animation, slideshow and film editing by Mark Simpson
Sydney Fringe slideshow operator Peter Lead
Camera operator Luke Erickson
Film score by Steven Kreamer
Film features Keira Daley, Mark Simpson, Steven Kreamer, and Daniel Milne, with Ben Dodd, Jacqui Greenfield, Shannon McKinn, and Nicholas Richard