Slapdash fun times ahoy!
7pm March 2nd is our second monthly Slapdash Song Night! live show and podcast.
To mark the 86th Annual Academy Awards, occurring the day after the show, the theme for this month is "At the movies".
Come down to The Record Crate (upstairs at 34 Glebe Point Rd, Glebe) and meet your very own guests:
– the Sydney premiere cast of Squabbalogic Independent Music Theatre's The Drowsy Chaperone
– banjo-wielding musical comedian Alice Fraser
– the cast of improvised musical wonder, BLANK the Musical
– cabaret singer-songwriter Courtney Powell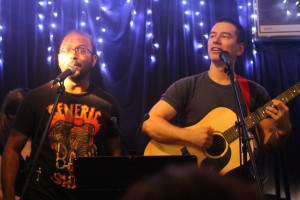 Regular (it's been one show so far, but still…) segments continue:
– SONGWRITING BATTLE – Keira Vs Pete, Round 2
– COVER ME, BRO! wherein somebody will cover Nancy Vandal's Ray Martin Has A Shed Full Of Giant Robotic Killer Wasps as per audience request in show #1.
Still $5! Still first Sunday of the month! Still SLAPDASH!