A letter to 30 Rock from LadyNerd HQ
Dear 30 Rock,
It's your finale today.  You've seen fit to shut it down.  While I need to go talk to some food about this, I understand it's a wise move to quit before there's a dealbreaker.  I'm happy that you get to walk away while you still feel great.
I still remember watching the pilot seven years ago – and even though Tina Fey may have since described this debut episode as "sweaty", it still had me at "I would like to buy all of the hotdogs…"
Later that season, I remember literally rolling around laughing at fireworks blasting off Rockefeller Center. And then, from the wedding dress/ham napkin, to the clinic where the Olsen twins were separated, to audition day with Kathy Geiss, to faux-Joni Mitchell/Janice Joplin/Liz Taylor/Barbara Walters/other historical figure, to the retreat to move forward, to the guy whose name is spelled "Criss Chross", to the world through Kenneth's eyes, to the Problem Solvers, and countless other things that have become part of my regular vocabulary… I want to go to there.
Thanks for all the silliness and for all the work you've done for the LadyNerd cause – because if it's good enough for nerdrageous Liz Lemon, it's good enough for us all.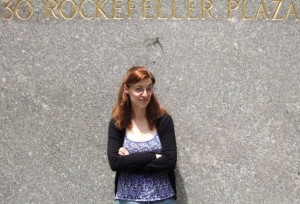 You are so wonderfully ridiculous – you have inspired me enormously and I am very grateful for all the mirth you've brought me.  Just know that you can rely on this moi to keep working on your night cheese.
High-fiving a million angels,
Keira Daley
Tragic Fan – Oceania Division
PS: Well, this is a thing I'm delighted to hear – SOMEBODY BRING ME SOME HAM!
PPS:

PPPS: IT SHOULD'VE GONE TO THE OTHER BOY!